Prayer Meeting – Wednesday, January 15, 7:00 pm
10-days of prayer meeting.
Topic: Submission to the Holy Spirit.
Auburn Prayer Line
10-days of prayer meeting – Topic: The Gifts of the Holy Spirit.
Open every Monday evening at 7:00 pm. The number is: 701-801-1220
Access ID: 894-608-855.
____________________________________________
Prayer Conference – February 14-16
The theme is Power from Above and Derek Morris, president of Hope Channel International will be the speaker.
"Let us then approach God's throne of grace with confidence, so that we may receive mercy and find grace to help us in our time of need." – Hebrews 4:16
If you are interested in attending this conference, please see Yvonne as soon as possible so she can make arrangements.
Special Service today at 5:00 pm
For our 4th day of 10-days of prayer, Pastor Mark Poitrowski, Conference Prayer Ministries Director, will be here to speak to us. Please be sure to come back to hear his message as we continue to Seek God's Spirit.
Reminder: EC Meeting tomorrow morning at 9:30 am.
January 18, 2020 – 4:30 pm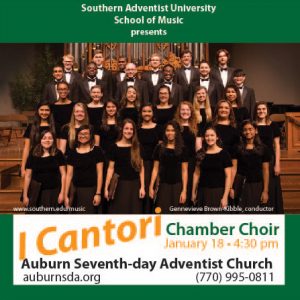 Next Sabbath to conclude our 10-days of prayer, the I Cantori choir from Southern Adventist University will be here to perform for us. The I Cantori choir is one of three choirs within the School of Music and includes students from across the USA and abroad who are pursuing degrees in a wide variety of disciplines.
Sewing Ministry – January 27 – 10:00 am
Due to some conflicts, our sewing ministry group will meet one week later
than usual. Again, our meeting will be in David O'Guin's classroom. Be sure to bring your project(s). It's always fun and interesting to see what you are working on.
Religious Liberty offering – January 25
Every year we have an opportunity to highlight God's sacred gift of freedom of conscience, to financially support the Public Affairs & Religious Liberty ministry of the Seventh-day Adventist church. We celebrate religious liberty because it is a precious gift from God. We defend it because of the role that freedom of conscience plays in prophecy. We utilize the offering in all aspects of religious liberty work, including, but not limited to, assisting church members with Sabbath accommodations, sending Liberty Magazine to thought leaders. Please be prayerful and ask for God's guidance in supporting this ministry.
Coming up in February . . . .
It's National Children's Dental Month and that means we hold our annual tooth brush drive for the children at Auburn Elementary.